HUNTIN' DAYLIGHT -- TAKING STOCK OF MARKETS AND THE CYCLE
by: Wes Ishmael
It's tough to love blizzards, but at least this winter's lambasting has helped push beef prices higher.
Analysts with the CME Group Daily Livestock Report (DLR) noted in February that steer weights (reported by USDA with a two-week lag) were 1.9 percent lower (16 lbs.) than the same time a year ago; heifer weights were one percent (8 lbs.) lighter. Fed cattle and cow carcass weights are also down.
"Keep in mind that current weight declines are the equivalent of 15,000 fewer cattle coming to slaughter each week and thus will compound the impact of already light slaughter levels," explained the DLR analysts. They added, "It is also possible that other factors are negatively affecting cattle weights. There have been numerous reports of the current corn crop suffering from excessive mold levels, a result of high moisture content as the crop was pulled from the field."
Plus, even with anemic domestic consumer demand, it seems that supply fundamentals are becoming more predominant.
January's Cattle on Feed inventory was the lowest for January since 2003. Year-to-year cattle on feed numbers were down 19 of the last 21 months.
These supplies will grow snugger as producers continue to liquidate cows on a net basis. As of January 1, USDA reports the total cattle inventory at 93.7 million head, which is one percent less than a year earlier. At 31.4 million head, the estimated beef cow inventory is also down one percent.
"On a nationwide basis, 29 states reported a decline in beef cow numbers compared to a year ago," say analysts with the Livestock Marketing Information Center (LMIC). "The report indicated that beef cow numbers are still in a modest contraction phase as the number of heifers held for replacement purposes was two percent smaller than a year ago."
CattleFax analysts noted at their Annual Market Outlook, held in conjunction with the annual meeting of the National Cattlemen's Beef Association (NCBA) that the worst calf prices in the cycle came in marketing year 2008-09; they should increase through 2014 (see Table 1).
Corn prices have helped support cattle prices, too. The February World Agricultral Supply and Demand Estimates narrowed the projected price range for this year by a nickel on both ends to $3.45-$3.95/bu.
Demand will continue to be the overriding factor in next year. According to Randy Blach, CattleFax Executive Vice President, "If we would have had the same beef demand for 2009 that we had for 2008, fed cattle prices would have averaged $93/cwt., instead of $83."
Longer Term Higher Prices—Margins Still Thin
Look further down the road and there are hopeful signs for global economic recovery, as well as further strengthening of U.S. agricultural prices. But even in a best-case scenario, the next 10 years will likely be a period of adjustment for American cattle producers.
At least that's the picture painted by USDA's Agricultural Projections to 2019, published the middle of February. The annual document presents its assumption for the projections, as well as where it sees demand and prices heading for various commodities.
"Higher grain prices and reduced demand push cattle inventories down through the start of 2011 and result in U.S. beef production declines in 2009-12. Beef production then rises in the remainder of the projection period as returns improve and herds are rebuilt. The total cattle inventory drops below 92 million head before expanding to about 94.5 million at the end of the projection period. Rising slaughter weights also contribute to the moderate expansion of beef production beyond 2012. Continued high feed costs are expected to result in stocker cattle remaining on pasture to heavier weights before entering feedlots," say the USDA analysts.
In fact, analysts with the Livestock Marketing Information Center point out in February, "As expected, USDA reported that the 3-state (Kansas, Oklahoma and Texas) number of cattle on small grain pasture was above a year ago. "The number of cattle grazing small grain pastures in those states was 1.92 million head, up 300,000 head from 2009's."
The USDA folks go one to explain, "After the price declines seen in the livestock sector in 2009, largely due to recession-related effects on meat demand, prices rise over the projection period. A moderate pace of expansion combined with improving domestic and export demand support prices in the projections."
According to the report, "Reduced demand resulting from the global recession lowered overall U.S. meat and poultry exports in 2009 by more than swven percent. After 2009, exports are projected to rise as global economic growth resumes and the U.S. dollar depreciates. With this growth, exports account for a growing share of U.S. meat use, although the domestic market remains the dominant source of overall meat demand."
It's this necessity for international trade that also speaks to an apparent problem U.S. policy makers are having with the working their way through the Great Recession. At this year's NCBA Cattlemen's College, Greg Dowd, NCBA Chief Economist noted that the world can no longer be characterized as a one-nation economy. Though still a major player, the U.S. is now part of the globe's multi-nation economy. As such, policies that worked in the old environment are likely to be less effective in the new one, at best.
Toss in global finances such as the value of the dollar and interest rates and things get complex.
"In the short term, with declining world economic activity in 2009, overall global trade declined for the first time since 1982 and agricultural trade fell as well. However, implications are more long-lasting, shaping macroeconomic prospects in the world for the next decade and beyond," explain the USDA analysts. "Within these adjustments, a continuing weak U.S. dollar is needed for the U.S. trade deficit to further decline. In these projections, the value of the U.S. dollar is assumed to slowly depreciate over the next decade. A weaker dollar tends to boost exports by lowering the price of U.S. goods in global markets relative to competing goods priced in appreciating currencies. Similarly, a weak dollar tends to dampen imports by raising the price of foreign goods priced in appreciating currencies relative to U.S. domestic goods."
A weaker dollar over the long haul suggests inflation as well as higher commodity input prices than if the dollar was stronger relative to international currencies.
According to the USDA forecast, the U.S. dollar depreciated 25 percent between February 2002 and July 2008, which helped grow U.S. agricultural exports. Although the dollar appreciated in real terms in the second half of 2008, it depreciated through most of 2009.
So, the forecasts suggest cattle producers will have increasing breathing room to make adjustments during the next few years, barring some unforeseen cataclysmic international financial meltdown. However, the outlook also suggests margins likely won't be as robust as they were during the last round of industry good times, and may not last as long.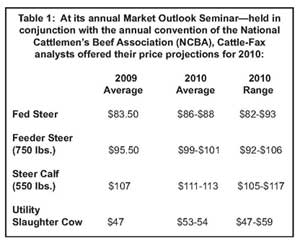 ---
Don't forget to BOOKMARK
Cattle Today Online!