COW CREEK RANCH LEAVES MARK OF INDUSTRY
by: Lea Stokes
"When my father purchased our first Angus females in the spring of 1952, I am sure his goal that day did not involve the journey our family has taken over the past 50 years," said the late Joe Reznicek in 2002. Certainly, no one could have predicted the untimely ending to the journey of which Joe spoke. From his early days on his family farm in Illinois, to the Sandhills of Nebraska operating Reznicek Farms, to his entry in the Brangus seedstock business in 1980s, to managing and eventually owning Cow Creek Ranch, Joe Reznicek's premature passing in 2010 left behind both a legacy in the beef cattle business and a gift of one of the most renowned and internationally recognized registered Brangus herds in the U.S., Cow Creek Ranch.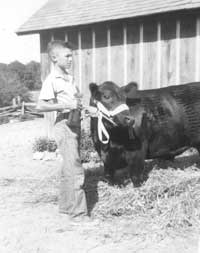 Young Joe Reznicek with Angus heifer.
Victory is seldom achieved by playing it safe. On the contrary, victory is won by those who step outside the box and change the way the game is played. Such was the philosophy of North Carolina businessman, G. Allen Mebane, who in 1985 established Cow Creek Ranch in North Carolinaby moving the original Cow Creek herd from Texas. DuringMebane's early years in the Brangus breed much of the attraction and excitement was created by successful businessmen who used the existing tax code to their advantage. Breeders bought and sold cattle for costly money while hosting elaborate Brangus sales with parties and entertainers.
But Mebane hardly fit the stereotype of a businessman running a company at a loss to pursue an expensive hobby of raising purebred Brangus cattle. Through a chance meeting, Mebane met Joe Reznicek and chose him to helpcapitalize on his cow investment and to build a viable cattle enterprise that would be based on cow function and profitability. Joe began applying core principles of creating a functional, efficient cowherd. What happened over the succeeding 25 years was the evolution of a powerful, forage-based cowherd and creation of one of the leading and most innovative seedstock operations in the country.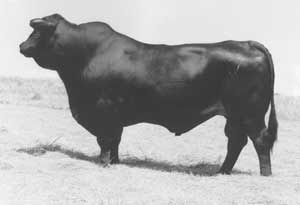 First generation sire, CCR Pathfinder 152W, began the cornerstone of the Cow Creek Ranch breeding program. Picture taken at 10 years of age.
Early on Reznicek made two intensely profound decisions that would eventually drive the direction of the Cow Creek Ranch program. The first occurred in July 1985 when Cow Creek Ranch harvested a test group of purebred Brangus steers, a practice rarely done at the time. "The business side of Allen kept preaching quality control. So we tested our product," said Joe. Eye-opening data showed the Brangus steer's ribeyes to be about the size of pork chops. Harvest results convinced Joe and Allen that their train was running down the wrong track, even though their genetics were perceived as among the top of the breed. The carcass data prompted Cow Creek Ranch to add first generation Brangus sire, Pathfinder 152W (Pathfinder), to their program. Reznicek then made a bold move of breeding every Cow Creek cow to Pathfinder, an unproven, new genetics yearling bull. The gamble paid off and Pathfinder would become the cornerstone of the Cow Creek Ranch program. To further advance their mission, Joe and Allen brought in a herd of Reznicek Angus cattle to experiment with producing new Brangus genetics. Second generation sire, VCC Impact 92T17, was also added to improve the herd's feet and leg soundness. During this era Cow Creek Ranch aggressively shifted their genetic direction and began addressing the breed's absence of carcass traits. To measure their progress, Cow Creek Ranch began using ultrasound technology on yearling bulls in 1988.
While a timely, but significant, genetic transformation was taking place, Reznicek was uncomfortable with the fact that the prominent genetics in the Brangus breed required too much delivered feed to maintain productivity. To make Cow Creek Ranch a profitable enterprise, Reznicek knew he'd have to rely on Mother Nature and begin developing a forage-based herd of cattle focused on production efficieny.
"I learned early on to let a cow stay as close to nature and to use nature in the culling process," Joe recalled in 2002."I learned to respect what that mama cow and nature are telling you. I learned how much you could see from horseback trailing a cowherd. From atop a horse you see cows that are free moving on their feet and legs and the structural difference in the ones that don't stride out." Joe noted. "You can actually see the muscle and bone structure and how it works in harmony to make that critter functional." He knew nature had to take care of the cowherd, not a feed wagon.
The next move Joe made would be one that would become the most powerful driver of Cow Creek Ranch genetics. He began by renovating a pasture with improved Bermuda grass, then turned out a large contemporary group of heifers and asked them to survive on grass. He culled females with big appetites. He did this year after year. This methodology became the rise of an enduring selection process for Cow Creek Ranch, which would focus foraging capacity rather than fed-on capacity, on optimums rather than maximums, and environmental compatibility rather than popular genetic lines. In the end he developed a moderate size, foraged-based cowherd that worked for the ranch, rather than the ranch working for the cows.
While the genetic conversion was taking place in the pastures, so was the marketing position and emphasis of Cow Creek Ranch. Reznicek believed that, in general, seedstock providers focused on production and outside of production sales little attention had been given to marketing plans. "The whole focus of Cow Creek Ranch became to provide a product for the commercial cattle industry," said Joe."No breed can sustain themselves from within. The sole purpose of any breed is to service commercial cow/calf operations with viable, functional bulls. If we did that, all other things would evolve from that foundation." With that mindset, Cow Creek Ranch implemented unique marketing strategies to attract cattlemen to their product.
So in 1988, to communicate the Cow Creek Ranch message to potential buyers, they launched a company newsletter, The Ear Mark. The newsletter was believed to be the first of its kind in the Brangus business. The same year they initiated a joint venture bull program to assist Brangus seedstock breeders in marketing their bull calves to the commercial market. While these are mainstream ideas in today's cattle business, they didn't exist in 1988.
In 1995, Cow Creek Ranch initiated a commercial bred heifer sale in which Cow Creek Ranch customers market commercial heifers sired by Cow Creek Ranch bulls. Another first for the Brangus breed. This year, 2012, will mark the 18th consecutive year for this customer sale.
The mind of Joe Reznicek never lay idle. While driving home from herd visits in Florida in 1992, Joe began thinking about a genetic product that could be used on Florida cowherds with heavy Brahman influence. He knew Angus bulls weren't the answer because of the environment. In 1993 he decided to breed Cow Creek Ranch's registered Angus cows to Brangus bulls and call their progeny Ultrablacks®. Cow Creek Ranch began actively marketing them in 1996. Cow Creek Ranch trademarked the Ultrablack name in 1998. Ultrablacks bulls became viable breeding pieces in the Southern tier of the country and a flagship-marketing draw for Cow Creek Ranch. In 2005, Cow Creek Ranch sold the Ultrablack trademark to the International Brangus Breeders Association (IBBA). Ultrablack cattle are now a part of the breed registry of the IBBA and are globally recognized in most all sub-tropical continents including South America and Australia. Cow Creek Ranch eventually would become the largest breeder of Ultrablacks in the U.S.
The wheels of the Cow Creek Ranch engine never stopped turning. With the challenge of building a commercial bull market and an eye on profit and loss, economy of scale came into play. Cow Creek Ranch needed to grow cattle numbers to attract volume bull buyers, but that required more land. North Carolina offered few options for economical expansion, while west and south of North Carolina was affordable rangeland still within the existing Cow Creek Ranch customer base. In 1994 they moved their operation to Aliceville, Ala. Allen and Joe maintained their business arrangement until in 1999 when Joe and Joy Reznicek purchased the Cow Creek Ranch in its entirety.
Cow Creek Ranch introduced the Profit Points System™ (PPS) in 2002 to assist their customers in the selection process of bulls. Because of the huge genetic impact individual bulls have on calf crops including replacement females, balance in selection is critical. Both the dairy and swine industries have successfully utilized selection indices for more than 20 years. Selection indexes have helped the dairy industry evolve towards a much more balanced and comprehensive approach to selection. Cow Creek Ranch never missed an opportunity to bend the curve or push the envelope and it was always done with their customers in mind.
Cow Creek Ranch's forage-based genetics rapidly gained respect among South American cattle producers. South American cattlemen recognized and respected Cow Creek Ranch's requirements of their four-legged factories to earn their spots on the factory floor by proving she can sustain herself on grass, forage in heat and humidity, travel freely, raise a calf and breed back. For two decades Cow Creek Ranch further substantiated the efficiency of Cow Creek genetics through volumes of feedlot data working with their commercial bull customers.
Cow Creek Ranch remained the largest Brangus and Ultrablack breeder in the U.S. through early 2010 and continued to dominate the Brangus bull market. The emphasis of the cowherd was always production efficiency. For 25 years Cow Creek has focused on breeding functional, efficient and profitable genetics. To achieve this they selected three foundation sire lines with highly heritable traits and then stacked those genetics within a breeding triangle. Each point in their genetic breeding triangle capitalizes function and profit. Fifteen years ago Cow Creek began weighing their cows on an annual basis and began eliminating inefficient females. The result was an increased stocking rate of 30 percent over five years.
Three traits difficult to capture in Brangus genetics are consistency, volume and muscle, moderate frame size and growth. By utilizing the breeding triangle Cow Creek Ranch minimized genetic variation, which then maximized predictability, consistency and muscle mass.
During the two and half decades of successes, disappointments and setbacks were part of the landscape. Cattle cycles, a failed beef company to weather conditions, tornados and drought made for some trying times. Though none proved more unforgiving than what lie ahead for the man who became known for his vision.
In the fall of 2008, Reznicek began a 14-month battle with lymphoma cancer. He succumbed to the disease in January 2010, the same year Cow Creek Ranch celebrated its 25th year in business. After intense deliberations, the Reznicek family made the decision to market the legendary Cow Creek Ranch herd. Southern Cattle Company of Marianna, Florida, recognized the value of the herd and in August 2010, owner John Downs and manager Lamont Ennis, purchased the historic Cow Creek Ranch cowherd. Cow Creek Ranch continues to operate under the ownership and leadership of Southern Cattle Company. Inevitably, though, change comes to all of us and Southern Cattle Company is no exception. On Friday, October 12, 2012, the entire Cow Creek Ranch spring calving herd will be offered at Cow Creek Ranch near Aliceville, Alabama. This represents a rare opportunity to select genetics from the most respected Brangus and Ultrablack herd in the United States. More than 300 spring calving pairs and yearling heifers will be offered. The dispersal of the spring calving cowherd in Aliceville represents a unique opportunity to tap into the largest, most consistent forage-based Brangus and Ultrablack cowherds in the U.S. While this chapter of Cow Creek Ranch is closing, the legacy of Joe Reznicek will live on here in the states and globally through the Cow Creek Ranch genetics.
---
Don't forget to BOOKMARK
Cattle Today Online!