KALLION FARMS WORKING TO PRODUCE THE IDEAL BRAHMAN
by: Dr. R. E. Hunsley
Byron Vassberg graduated from Texas A&M University with a degree in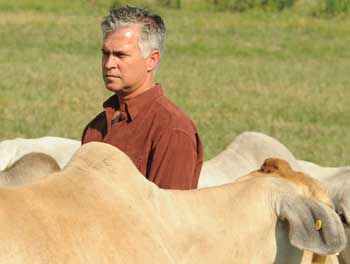 Byron Vassberg with his cattle.
Agribusiness and has used this degree in his endeavors as a farmer and as a rancher. When Vassberg realized he had become one of the most productive sugar cane and cotton producers in Texas, he decided he needed another challenge.
Consequently, he chose to fulfill another passion as he set his sights on becoming a top cattle producer. Starting with a commercial herd of Brahman and Braunvieh cattle, Vassberg realized that his purebred Brahman animals brought more at sale time than his crossbred cattle. Therefore, this initial foray in cattle ranching really just whet his appetite for his real dream … producing the best possible cattle and doing it economically, efficiently and quickly.
If you were to ask Vassberg what attributes he believes the ideal Brahman should have, he would say, "Eye appeal, docile temperament and fertility, but most importantly the production of an animal that is efficient at converting grass or feed and then produces tender, flavorful beef." If these attributes make the ideal Brahman, then we have to say that Kallion Farms is well on their way to achieving their goals.
Vassberg has gone after his dream with a vengeance, using every technological tool available. At Kallion Farms these new and emerging technologies are used to select the genetic criteria necessary to fulfill the industry's needs. Byron uses all the information he gains from DNA testing, feed efficiency results, carcass data and ultrasound information to support him when he makes his mating decisions. The use of sexed semen in both their AI and embryo programs brings Kallion Farms one step closer to their goal… creating the ideal Brahman.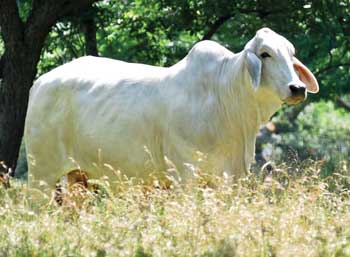 At Kallion Farms, Vassberg is in search of the ideal Brahman, and ultimately, the perfect steak.
With cattlemen feeling the effect of corn prices that have more than doubled in recent years, feed efficiency has moved to the number one position in the Kallion Farms' selection program. With this in mind, Kallion Farms is testing their bulls and females at a GrowSafe equipped RFI Testing Center. Vassberg claims, "Cattlemen who are interested in reducing the feed intake of their animals by 15-20 percent with no effect on average daily gain or mature cow size could receive these financial benefits by using bulls and females from Kallion Farms with low RFI test results."


Vassberg is a visionary who boarders on being a true perfectionist. In his farming enterprise, he is dedicated to producing the perfect bale of cotton or the perfect variety of sugar cane or the perfect ear of corn or the perfect onion, etc. In his cattle operations, he is striving to produce the perfect Brahman and ultimately the perfect steak.
He realized from the beginning that he could control the genetics in his Brahman cattle population but the one thing that he could not control was the environment. Vassberg is able to control the environment (moisture) in his farming operation but the persistent drought has been a major obstacle in the production of the ideal Brahman and ultimately the "perfect steak." As a result he has developed contingency programs for his cattle operation to compete with and overcome the large environmental influence caused by the drought. His vision now tells him that the perfect steak is now in his sights… that a well-marbled, juicy, finely-textured, cherry red, tender steak with the Kallion brand is forthcoming.
Reprinted with permission from the June 2013 Brahman Journal.
---
Don't forget to BOOKMARK
Cattle Today Online!