Well we had our semi annual traffic jam on the road this morning. Not that anyone drives fast on this road. But today it slowed to a crawl. Or at least a cows pace. The calves we branded yesterday along with their mothers and about 10 bulls came marching up the road. They stopped for a break on the west end of my place. That is about 4 miles from where they started. It gave the calves a chance to mother up and they all ate some road side grass. About an hour and off they went with another 4 miles or so to go.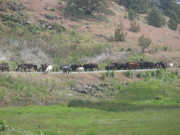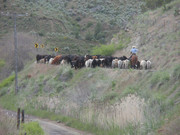 Cows ditch to ditch.... except there are no ditches. So cows from straight up to straight down.
Notice the size of those Char cross calves. These are February/March calves. I am glad I wasn't wrestling calves at teh branding yesterday. Age does have some advantages.