Yesterday was a rodeo for me at the farm. I have one calf that is crazy fearful and I had a very hard time getting her to get in the squeeze. My set up was crap and that was a huge contributing factor but I have seen behaviour in her I have never seen in another calf on our farm.
She immediately starts foaming from the mouth and nose. Like big time foaming. She breathes very heavy and every time I approach her she pees. It's uncontrollable peeing...she's peeing herself in fear. By the time I finally got her in the squeeze she collapsed in it head down shaking uncontrollably, I thought she had injured herself she was so tense. Just bizarre.
She was very close to jumping the fence multiple times. She's also a major kicker.
Now, I know, she's going to go. I'm going to sell her ASAP.
But does anyone have any advice on how to better manage her? What kind of handling tips if any for an animal like this?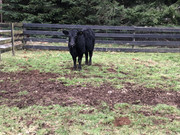 I call her June Bug