I saved a fall couple bull calves back this year, as a friend wanted to pick out a bull for his herd. I have a couple choices from Capitalist 028. Anyway, one of our better cows didn't settle AI but had a bull to a hoover dam son about a month after the AI calves were born, and he is blowing away everything else. He's my heaviest calf, and like I said, almost a month younger. He was born 10/22/19. Just was kind of cool to see a bull with his structure already at 5 months old.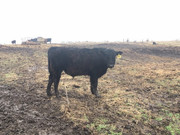 here is a Cap 028 son that is out of a first calf heifer. He hasn't grown as well as son of the others, but I'm hoping that's just because she's not milking super heavy, being her first calf and she calved at about 22 months of age. But his dam and granddam are two of my favorite cows; build, disposition, etc. He also has some Prophet a couple rows back.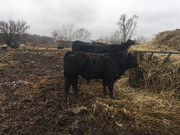 Here is the bull that's a month younger out of a hoover dam son.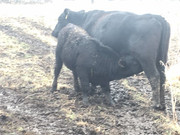 Same bull as above. He is a standout in our group for sure. I don't know what that means going forward, but I'm excited to see how he grows. They don't get creep feed. The calves are pretty much just eating hay, and in his case, I'm thinking he drinks a lot of milk.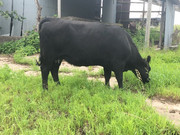 Here is his Dam. She's a 4-5 year old. No idea what her background is. This photo was from this past June.