It's done. At least all of the major construction. No more RR ties to set. No more poles to cut and put up. No more gates to hang. Still a little picky stuff to do. Last winter the heifers got to rubbing on the chute. It is about 16 inches out of line. Need to hook the tractor to it and pull it back where it belongs. I am going to build a little web mesh panel fence to keep cows from rubbing on the chute in the future. The place I want solid I need to hang that dryer felt on. But I picked up the tools which means the job is done. I am sure happy to be done.
To the right goes to the sweep. To the left goes to the sorting pens. The gate swings across shutting off one way and opening the other.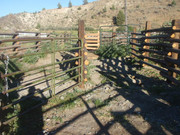 Man gate by the chute.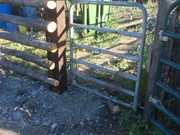 Man gate at the sweep end which was installed at the wife's request (last gate installed). Something about having to walk to far too many times in her life.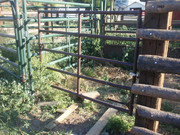 Two pens to sort into. The gate is swung all the way back at the second pen.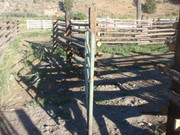 Sun in the eyes but the gate shuts off the alley coming back from the sort pens and directs the cattle into the sweep. Gate on the left is actually the sweep.