Cattle A.I. School Will Teach You How to Artificially Inseminate Your Cattle
Want to breed your cows to the world's best bulls? The Ultimate Genetics Artificial Insemination School and Reproductive Symposium DVD will show you everything you need to know to successfully AI cattle. Learn at the speed you are comfortable with in your free time. The AI School is taught by the world's leading bovine reproductive specialists.
What Will I Learn?
Basic AI Techniques for Cattle
Advanced AI Techniques for Cattle
Functional Reproductive Anatomy of a Cow
The Estrous Cycle in Cattle
Estrus Detection and Synchronization
How to Handle Semen
---
Order the DVD Online!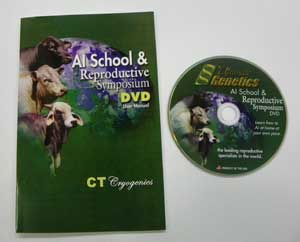 Only $99 includes 3+ hour DVD and Illustrated Color Booklet.
---
Order the USB Flash Drive Online!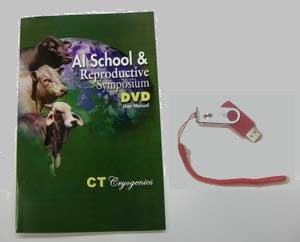 Only $99 includes 3+ hour USB Flash (Thumb) Drive and Illustrated Color Booklet.
---
Cattle Today's Book Store
is brought to you by CATTLE TODAY in association with amazon.com. We've carefully selected the best cattle reference books just for you. It's easy, quick, and convenient to order. You will love the low, low prices! Just click on your choice below and read the book reviews. 
For Horse Books click here.
Our Best Cattle Books
---
by Baxter Black
Baxter Black's poetry and commentary on the ordinary life of cowboys, farmers, ranchers and rural vets is an entertaining look at a slice of disappearing American life.
---
by Buetow/Breeton
Total care and training.
---
---
by Baxter Black
Ol' Baxter has done it again! He manages to mix humor with social commentary, kind'a makes you think and belly laugh at the same time. 
---
by Allan Nation
How to make money with stockers on grass.
---
by Bill Murphy
Better Farming With Voisin Management-Intensive Grazing.
---
---
by Ann Herbert Scott, Ronald Himler
A children's story.
---
---
by National Research Council
What your cows need to eat.
---
by Joel F. Salatin
How to direct market your beef.
---
---
by Susan E. Aiello & Asa Mays
The best general veterinary reference book around! Refer to this book if you want to know what your Vet is talking about. It is relatively easy for the average animal owner to understand. You will learn about animal physiology, behavior, management, nutrition, pharmacology, toxicology and general management.
---
---
A classic textbook.
---
by Robert L. Sharp
A memoir of the life of a cattle rancher in the 1920's.
---
by M.E. Ensminger
It's 7th edition.
---
---
by Eddie Straiton
Treat 'em yourself.
---
by K Foster
The complete guide to choosing, planning, and building today's best fences: wire, rail, electric, high-tension, temporary, woven, and snow.
---
by Burt Smith
Describes low stress herding techniques which allow herd animals to be moved between locations calmly and quickly.
---
---
by Verl Thomas
Important information on nutrition, reproduction, and genetics!
---
by Phyllis Hobson
Beginners book on freezer beef.
---
---
by Richard E. Waldron
If you're looking for a good book with an overview of futures, this one works.
---
p>

If you don't see what you want in the above list just type a keyword below and amazon.com will search their 4,000,000+ titles to find your choice!