I bought this prolly 5 years ago or longer at the Famr Machinery Show. Only used it once (I believe I waited too late in the growing season broomsedge was not actively growing). Had mixed results, killed some, but not enough to justify the trouble.
Retired now, and time to "fool" with things. Got it back at and used it Friday.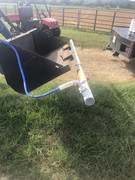 It in use today: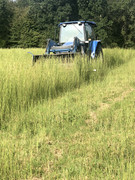 Results from Friday:
Picture does it no justice, but it is turning very yellow. Will it kill it? I'm hoping. Will it be back next spring? I hope not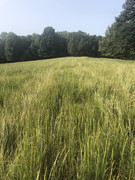 Also, I don't know if this pic will do it justice. You can see a definite line between where I unrolled hay last year, and where I did not. The unrolling has knocked out about 95% of the broomsedge.