I thought this would be a good time to remind everyone just what a horse can get into. My sisters barrel horse went over the back of the square baler. We try to keep everything picked up because we know the things a horse can get hurt on, but we never thought of this. He went completly over the back of it. We have a mare that is a bully we think she caused the whole thing.
This is how swollen it was this morning.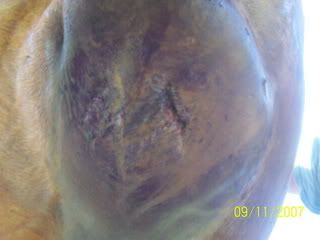 This is the 2 puncture wounds under his belly,
and this is what he did it on.
It did not get into his stomach lining, the 2 holes are clean about 2 inches deep, and we are keeping them washed out and packed with furizone. He is getting penicillin and phenylbutazone for the pain and swelling. Just praying it don't get infected. It really could have been alot worse.