Haven't posted for awhile-winter and calving seems to have crept up. Our biggest cow-she must be all of 800kgs surpised us with twins a month ago. They were just there when we checked one morning!
They weighed 36 and 38kgs-so each was the average weight of a single MG calf!
She likes them both and can count-to my relief-do not want to have to bottle rear a calf-this our 40th year with Murray Greys and this girl goes back to one of the first B grade (75%) Murray Greys we purchased back in 1978.
Just sold her 2017 born weaner heifer (372kgs)in May at 10 months old for $NZ1,700 to another stud.
So these are her 7th and 8th calves. Sadly one of each sex as well as one of each colour!
Pictured on day one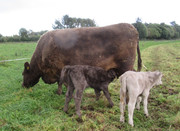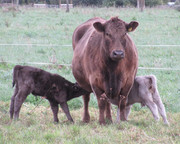 and at a month old..