These are pictures of where I wanted to enter a picture in last months contest. I kept forgetting to take the camera with me.
This is looking South from the from the Baker Valley. Those are the Elkhorn mountains. A month ago there was a lot more snow on them.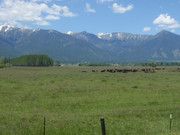 This is looking North from the same spot. Those mountains are the Eagle Caps. The clouds are hiding them somewhat and the picture doesn't do them justice. The cows are Waygu that belong to one of my neighbors.